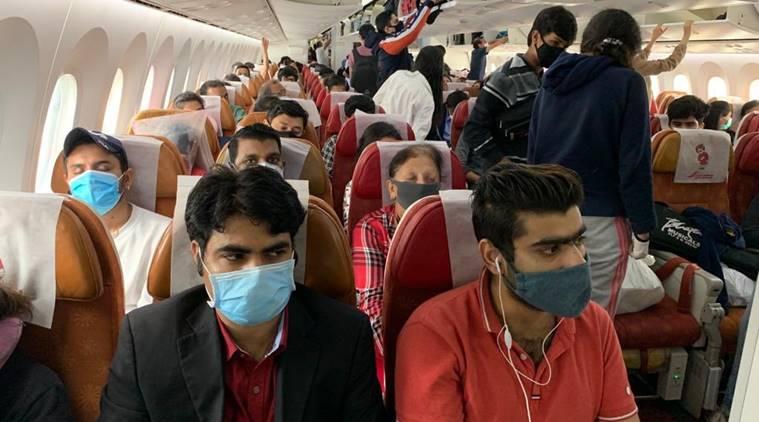 Quarantine hotel rates in Bangalore, 5 stars for Rs 3000; Complete list of BBMP tariffs
As Bengaluru hotels and restaurants tasked with providing the 14-day institutional quarantine facility for Indians flown in from overseas and for those arriving from other parts of the country charge high rents, most returnees find unaffordable quarantine facility. Institutional quarantine being compulsory for any passenger returning from neighborhoods, stages and outside countries; high room charges turned out to be a big blow to returnees.
BBMP issues fixed rates
To alleviate the crisis, Bruhat Bengaluru Mahanagara Palike (BBMP) announced fixed rates for quarantine facilities for all categories of hotels and in single and double occupancy. The rates published by the BBMP also include taxes.
According to its statement, hotels and restaurants should strictly adhere to the new charges. Five-star hotels in the city can now charge Rs 3,000 per person for their stay. In the meantime, a coupe in such hotels is expected to shell out Rs 3,700. For lunch and dinner at these hotels, the BBMP requires charging Rs 500 and Rs 550, respectively.
In addition to this, tariffs are provided for people coming from out of town.
Recently, 19 of the passengers who returned to Bengaluru were sent back to Delhi when they refused to undergo mandatory quarantine in hotels. According to passengers, they were not notified until the required quarantine was required and claimed they did not have the money to pay the hotel rents.
Authorities had reserved hundreds of rooms at all large and small hotels in the state to provide the 14-day quarantine facility. All expenses incurred for their travel and accommodation should be borne by the passengers themselves, the government said beforehand.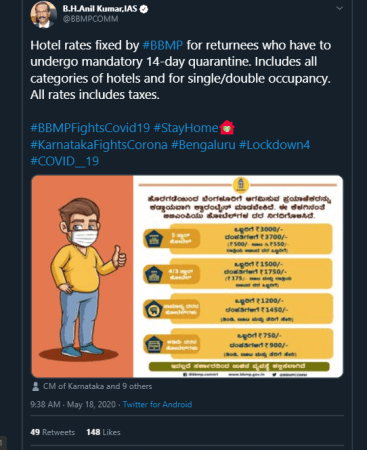 Prior to the BBMP's statement, hotels in Bengaluru were charging over Rs 4,100 per day for their accommodation. Three-star and budget hotels charged Rs 1,850 and Rs 1,200 respectively.
The new fixed rates were announced by the authorities following a big ruckus over the high charges and taxes imposed by hotels and restaurants trying to make it a business.
List of quarantine hotels in Bangalore
Sabarwal Residence, Sudamanagar
Emirates Hotel, BTM layout
Empire Hotel, Koramangala
Silicrest, Koramangala
Oyo Amethyst, Jayanagar
Ramakrishna Lodge, Gandhinagar
Citael Hotel, Anand Rao Circle
Likith International, Gandhinagar
Fortune Park JP Celestial, Sampangiramanagara
Arafa Inn, Gandhinagar
Lemon Tree Premier, Ulsoor
Keys Select, route de Hosur
Chalukya Hotel, Chalukya Circle
Sri Lakshmi PG, Domlur
Trinity Wood Hotel, ITPL Main Road
Keys Select Whitefield, ITPL Main Road
Oyo town, near Lake Ulsoor