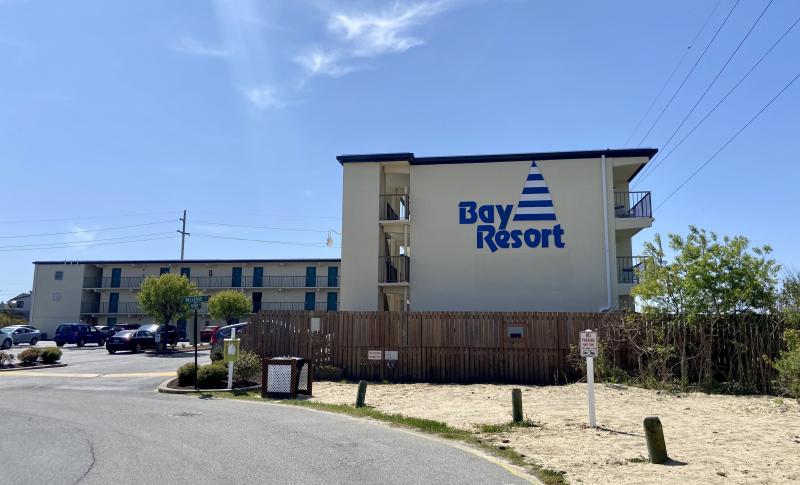 Improvements sought for the Bay Resort Hotel in Dewey
The Bay Resort Hotel in Dewey Beach could undergo major renovations and additions, pending a Board of Adjustment hearing scheduled for Monday, May 16.
Attorney Glenn Mandalas, representing real estate owner Moore Blue Water, filed a request for hearing seeking four waiver requests, two special exception requests and a request to appeal the municipal building official's decision that a proposed outdoor pool would not comply.
County records show Moore Blue Water LLC purchased the Bay Resort in December 2018 for $9.7 million. In December 2021, Blue Water Development, which shares an Ocean City address with Moore Blue Water LLC, also purchased nearby Pier Point Marina in Dewey for $5.75 million.
In the request for hearing, Mandalas wrote that in February, plans for renovations and additions were submitted to the city's building official, Daune Hinks, who informed the requester that a few items would need a waives advice to be built as proposed.
"These elements are an integral part of the proposed overall plan, they meet the legal standard for a waiver or special exception, and if granted, they will help transform the property into a true destination in the city," Mandalas wrote. .
Of the four waiver requests, one is requesting a rear yard setback waiver to allow a proposed pool fence and tiered deck structure to extend seven feet into the 10-foot rear setback.
Another is asking for a side yard setback waiver to allow a proposed new outdoor pool along Rehoboth Bay to extend four feet into the 10-foot setback.
The third is asking for a front yard setback to allow a ground-level cabana to extend six feet into the 18-foot setback, and the fourth is asking for a 7.5-inch setback from the city ​​requirement of 12 inches of freeboard for non-residential structures.
Special exception requests are to move an existing gazebo to a location 12 feet into the 18 foot front yard setback, six feet from the front property line, and to allow a partition structure to lift to extend 42 inches above the roof. peak.
"We are excited about the revitalization of this property," Mandalas said via email May 4. "The design team added awesome features that match the surrounding area while providing an enhanced customer experience."
The hearing is scheduled for 6 p.m., Monday, May 16, at Lifesaving Station, 1 Dagsworthy Ave. Go to townofdeweybeach.com for the full agenda and meeting documents.