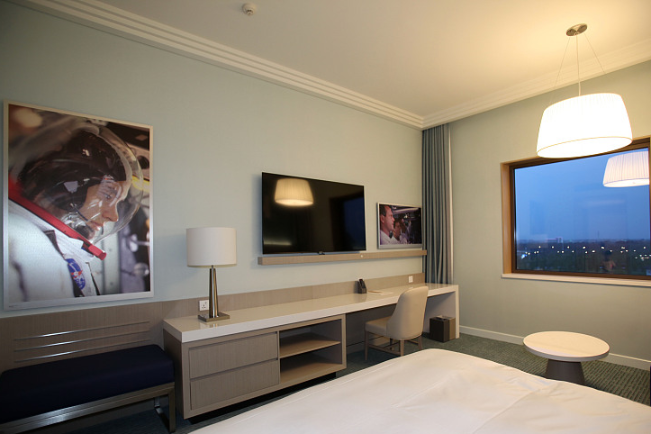 Hotel bookings in China top 2019 figures
China's tourism industry is showing strong growth momentum, with hotel bookings on travel platform Qunar.com for the past week surpassing the same period in 2019 after the reopening of two resorts in Beijing and Shanghai, The Paper reported Wednesday.
The surge in bookings is seen as a "multiplier effect" from the reopening of Shanghai Disney Resort and Universal Studios Beijing.
Universal Studios Beijing resumed operations on June 25 as the resurgence of COVID-19 largely subsided in the nation's capital.
Shanghai Disney announced on June 28 that it will reopen on June 30 after a three-month shutdown induced by the city's recent COVID-19 outbreak.
The resumption of service for the two theme parks will lead to a strong rebound in the summer tourist market, according to industry insiders.
Qunar.com statistics indicate that searches for "Disney" increased 655% month-on-month on the afternoon of June 28, nearly doubling Shanghai's popularity in terms of online traffic. .
The reopening of Shanghai Disney has also boosted the popularity of other Shanghai scenic spots.
Data from Qunar shows that there are currently 3,041 normally operating theme parks across the country. From June 1 to 28, national theme park ticket sales doubled compared to the same period in May.
The two resorts are expected to account for about 20% of ticket volume for all theme parks across the country during the summer holidays.
Theme parks provide global business, which boosts other consumption such as transportation, accommodation, catering and fast-moving consumer goods, said Huang Xiaojie, Qunar's chief marketing officer.
Hotel bookings have seen a 50% growth over the weekend near Universal Studios Beijing since it reopened on June 25.
Over the past two weeks, the occupancy rate of Huazhu Group hotels has exceeded 80 percent, and the upward trend continues as the summer vacation approaches, according to data from the hotel chain.