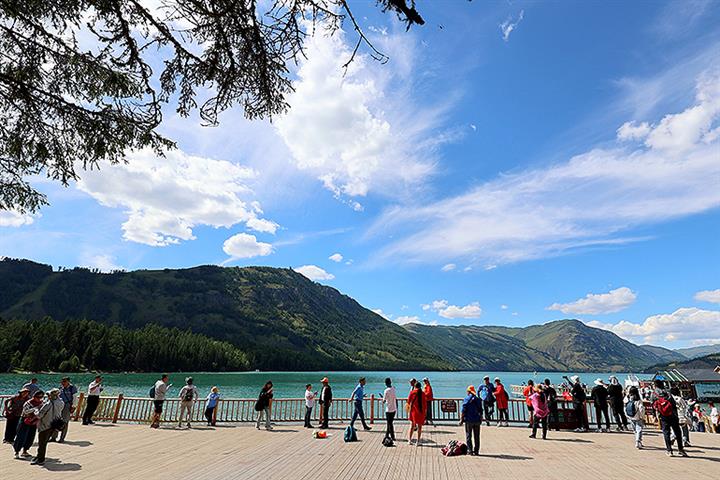 China's Xinjiang becomes tourist hotspot as hotel bookings top pre-pandemic levels
(Yicai Global) July 21 – China's far-west Xinjiang Uyghur Autonomous Region has emerged as one of the country's most popular tourist destinations as domestic travel rebounds from a series of Covid outbreaks -19.
Hotel bookings in Xinjiang, which lies on the ancient Silk Road and has a rich cultural heritage as well as spectacular scenery, jumped 50% in July compared to the same period in 2019, reported today. online newspaper The Paper, citing several online travel agencies.
Flight bookings to Xinjiang more than doubled between July 6 and July 19 compared to the same period in June, according to data from travel platform Qunar. Those to the capital Urumqi rose 110%, while those to the oasis border city of Kashgar jumped 90%.
Guesthouse bookings jumped nearly 80% between July 9 and July 15 compared to the same period last month and more than doubled compared to the same period a year ago, according to Tujia, the Chinese version of AirBnb. An average of 495 CNY (73 USD) was spent per booking, similar to peak times.
Ticket sales to scenic spots in the region more than doubled between July 9 and July 15 from a year ago, according to the country's largest online travel agent, Ctrip.
The Duku Expressway, considered one of the most beautiful roads in China, set high in the Tianshan Mountains, is experiencing traffic jams, said Mu Xilin, a landlord who runs an inn along the expressway. It can take four to five hours to cover 10 kilometers and in some sections it can take six to seven hours to cover this distance.
His hostel in the Narathi area was fully booked from late June to early August. Some self-driving tourists have to sleep in their cars because they haven't booked accommodation in advance, he added.
Editor: Kim Taylor